Best practices for selling your suite
Keep Listings Current
The SuiteHop platform is designed to take the friction out of the suite buying process. Nothing puts more friction in the buying process than a listing that appears available but is found to be no longer available when the sale is in confirmation status. This creates a negative user experience and ultimately dilutes the experience and value for all platform users. This obviously will lead to a sub-optimal sales success pattern.
To keep up with your listings it can help to have one person manage the listing. Our most successful Listing Partners dedicate one person in their organization to manage their listings. This typically requires that they log in daily and spend a few minutes to make sure all listings are current.
If your suite becomes unavailable, it is your responsibility to remove it from the site ASAP!
Dynamically Adjust Pricing
Savvy Listing Partners realize that the Listing Manager tool allows for real-time dynamic price adjustments giving you complete control over your suite listing. Keep in mind, some events don't have the same demand as others.
With SuiteHop's Listing Manager tool you can adjust the pricing to reflect the demand of an event. Try dynamically adjusting the price down when a suite is still not sold but getting closer to the event date. It is better for a suite to sell at a lower price than have it sit empty for an event.
Notes & Descriptions
Think about differentiating how you describe your suite. SuiteHop requires all our listing partners to include their standard amenities, but you have the opportunity to describe what makes your suite unique!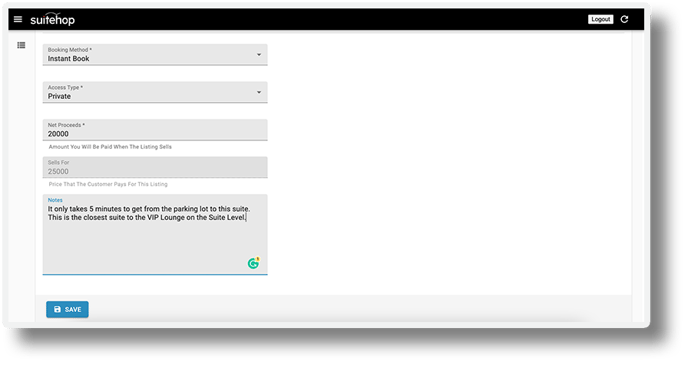 Consider adding tips that would help the user think differently about your suite.
"Handicap elevator steps away"
"3 minutes from parking to suite"
"Closest attack-twice suite to the ice"